Captains Log:
2/18/16-2/22/16
Almost time
We are making final adjustments to prepare our robot for the Wilsonville district. All of the sub-teams are pitching in to make the robot as perfect as possible.
2/4/16-2/17/16
Robot on the move
The robot is alive!
We are fine tuning it for the First Force Scrimmage! Which will be this Saturday from 11 AM to 4 PM at Corvallis High School. Electrical, mechanical and programming are testing the robot to have it ready. Marketing and Media is working on the pit while business is working on the business plan. The robot will be done by the end of build season, and it will be glorious.
1/19/16-2/3/16
Work Time
At robotics, we got things done. Mechanical has been machining parts of the robot. Design has been fine tuning their design. Programming has been working on programming for the robot. While marketing and media worked on buttons and t shirt electrical worked on the electrical board. The robot is coming together!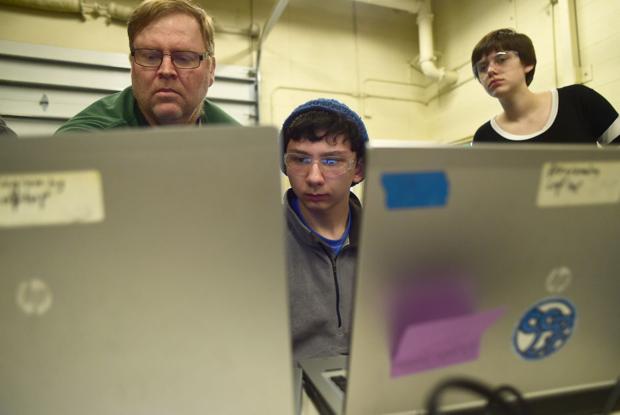 (Pictured) Floyd Moore, Devon Crane, and Jessica Wohlwend testing robot code
1/15-1/19/15
All the Work, and None of the Time
We've had a productive first week here at Spartan Robotics, Design finished a couple of prototypes and have been designing the robot. Mechanical has been getting their supplies in order, ready to build. Electrical already has a mock electrical board and is trouble shooting. Programming has begun writing code for the robot. Marketing and Media are going to have a review over their T shirt design. FTC has been training their drivers for their first event, which is in less than two weeks! It's an exciting time here at Team 997 as the second week of build season reaches its mid point.
(Pictured) Matthew Gradwohl and Sarah Ponstein working with Marketing and Media
1/9-1/15 2016
A Bold Beginning
Build season has started once more! We've spent the last few days designing the parameters and strategy that our robot will follow this year. It has been productive. Right now the sub teams are planning their work of the robot. Business has been working on chairman's, electrical is planning the electrical board, design is starting to design the robot using paper and cad, programming is  making sure they know what's going to be on the robot before coding so they can plan ahead, and marketing and media is designing our banner. We hope to have a productive season, and so far that is exactly what has been happening.
(Pictured) Caleb Ferguson, Sam Navarro, Floyd Moore, and Anthony Cardinelli researching possible endeffecters for the robot
Summer 2015
Hello!
It's been awhile. It's time for the summer update in the Captain's Log. What have we been doing this summer? That's a good question.
LET'S DO THIS
We got a new room to build robots in. It's roomier, spacier, and has 2 microwaves, we got over the old room pretty quick. Right now mechanical's working on fixing up our robots for the past two years for girls generation and outreach events. Programming and Design have been setting up pc's for to use, and business has been working on prepping fundraisers. Speaking of that: Fundraisers and Outreach have been doing many outreach and fundraisers over the summer. Like car washes! Many cars showed up to our car washes, ensuring everyone washing cars. We also sell light bulbs at the Saturday Market, which is going splendid.  We've also been doing outreaches! Like revamping the gardens of Franklin Middle school We demonstrated our robot to elementary schools and summer camps throughout the summer and late spring.
That's all for now folks, see you in the early weeks of September as school starts!
5/1/15- 5/8/15
New Schedule
Hello! The blog is switching to a bi weekly model due to it being the off season. The new captains were chosen on May 1st. With Shyla Warnok and Eddie Torres being the new team 997 co captains! Congratulations to them!
(Pictured) Shyla Warnok working with Business
Mechanical has been reviewing design process these last two weeks and have fully repaired our 2014 robot Cynder for demonstration use! On May 8, four of our students visited Muddy Creek School to demonstrate Cynder and explain what robotics is to to the students. The students were overjoyed! Electrical continues their clean up, business continues to work on fundraisers, and programming is starting to train. That's all for this week!
(Pictured) Shyla Warnok, Kieran Prince, and Anthony Cardinelli helping a student drive the robot at Muddy Creek
A SPECIAL THANKS TO THESE INDIVIDUAL DONORS: Ralph & Jean Eucher, Foss/Stahl, John & Liza Stout, Steven Rhoades, Robert Boles & Karent Carr, William G. Kimmen Jr, and Rick & Megan Frothingham